ICBTA 2019 @ Xi'an, China
2nd International Conference on Blockchain Technology and Applications
December 9th-11th 2019
Submission Deadline for Full Paper

July 15, 2019

Notification Date

August 5, 2019

Camera ready paper &
Registration Deadline

August 20, 2019

Conference

December 9-10, 2019

Tour or academic visit

December 11, 2019
SUBMIT NOW
Why ICBTA?
2019 2nd International Conference on Blockchain Technology and Applications(ICBTA 2019) will be held in Xi'an, China during December 9-11, 2019. It is a major conference organized with the objective of bringing together researchers, developers, and practitioners from academia and industry working in the area of Blockchain Technology and Applications. Conference consists of keynote lectures, oral presentations on all aspects of Blockchain Technology and Applications. Researchers invited to speak, will present the latest developments and technical solutions in the areas of: theories of blockchain and its evolution, smart contract and distributed ledger, blockchain and bitcoin security, performance optimization of blockchain and decentralized schemes and applications with blockchain technique, etc. We welcome paper submissions. Prospective authors are invited to submit full and original research papers which are not submitted/published/under consideration anywhere in other conferences/journal in electronic (PDF or Word only) format.
More details on ICBTA Tracks
Flyer (DOWNLOAD)
Publication
All papers will be published in the International Conference Proceedings Series, which will be indexed by Ei Compendex and Scopus and submitted to be reviewed by Thomson Reuters Conference Proceedings Citation Index (ISI Web of Science).

(ICBTA 2018 proceedings: ACM Digital Library. )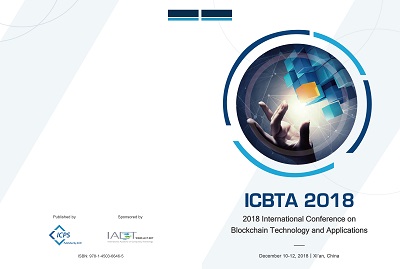 What's New

*Feb. 12, 2019. Good News! ICBTA2018 proceedings has been available at ACM digital library!


*Dec. 28, 2019. ICBTA2018 was successfully held in Xi'an. Thanks for your support. We look forward to welcoming you again in Xi'an for the 2nd ICBTA during December 9-11, 2019!

*Dec. 14, 2019. ICBTA2018 was successfully held in Xi'an. Thanks for your support. Please download the group photo here.

*Oct. 8, 2019. Due to many requests for an extension of the deadline, the organising committee has agreed to extend the deadline for submissions to October 12. You are welcome to submit your full paper online.
Call for Participation
The ICBTA2019 Organizing Committee invites you to attend the 2nd Conference and experience presentations by leading minds in the field. Abstracts submission is also welcome for oral presentation only (no publication). If publication is required, please submit the full paper. If you are interested in participating in the audience (not as a speaker), please send an application with your information to icbta@iact.net.
register now
Listener registration form
SPONSORED BY


.