ICBTA 2019 @ Xi'an, China
2nd International Conference on Blockchain Technology and Applications (第二届区块链技术与应用国际会议)
December 9th-11th 2019 | 2019年12月9-11日
Submission Deadline
{截稿时间}
October 25, 2019
{2019年10月25日}
Notification Date


{文章状态通知}

November 4, 2019


{2019年11月4日}

Camera Ready Submission


{终稿递交}

November 14, 2019


{2019年11月14日}

Registration Deadline


{注册截止}

November 14, 2019


{2019年11月14日}

Conference


{大会签到报告时间}

December 9-10, 2019


{2019年12月9-10日}

Tour or academic visit


{大会学术考察/旅游时间}

December 11, 2019


{2019年12月11日}
SUBMIT NOW | 点击投稿
Why ICBTA?
Emerging blockchain related technologies will significantly transform transactions, currencies, system operations and management in the digital era. On one hand, blockchain will play a crucial role for secure decentralization in fields such as Internet of Things, cyber physical systems, cloud and edge computing, future Internet, security, fault tolerance, next generation wireless communications, etc. On the other hand, its advance should be further refined and optimized in terms of scalability, privacy, security, fault tolerance, availability and high dependability. In the meantime, arising new applications of blockchain will bring along new requirements, research issues and new challenges for research communities.
2019 2nd International Conference on Blockchain Technology and Applications(ICBTA 2019) will be held in Xi'an, China during December 9-11, 2019. It is a major conference organized with the objective of bringing together researchers, developers, and practitioners from academia and industry working in the area of Blockchain Technology and Applications. Conference consists of keynote lectures, oral presentations on all aspects of Blockchain Technology and Applications. Researchers invited to speak, will present the latest developments and technical solutions in the areas of: theories of blockchain and its evolution, smart contract and distributed ledger, blockchain and bitcoin security, performance optimization of blockchain and decentralized schemes and applications with blockchain technique, etc. We welcome paper submissions. Prospective authors are invited to submit full and original research papers which are not submitted/published/under consideration anywhere in other conferences/journal in electronic (PDF or Word only) format.
detaiLED Tracks | 征稿领域
Flyer (DOWNLOAD) | 下载宣传扉页
Publication
All papers of ICBTA2019 will be published in the ACM International Conference Proceedings Series. The ISBN number assigned to ICBTA 2019 is 978-1-4503-7743-0. All papers will be archived in the ACM Digital Library, and submitted to Ei Compendex and Scopus for index and submitted to be reviewed by Thomson Reuters Conference Proceedings Citation Index (ISI Web of Science).

ICBTA2019会议文章将发表在美国计算机协会ACM International Conference Proceeding Series出版,提交ACM数据库、EI核心数据库和Scopus, 以及CPCI检索。(好消息!ICBTA2018大会论文集的文章已被 EI 和 Scopus 检索!)

(ICBTA 2018 proceedings: ACM Digital Library | EI Compendex | Scopus )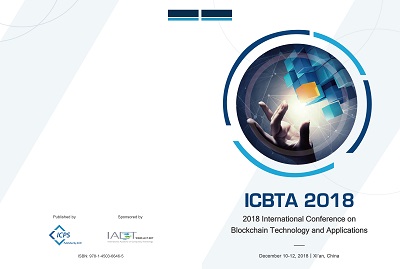 What's New

*September. 4, 2019. Please note that we have recently adjusted our registration fees. The listeners' registration fee has been greatly reduced. Please seize the chance to register before early bird registration deadline-September 20, 2019! (Read More)


*August. 15, 2019. Welcome IEEE fellow Prof. Wenjing Lou from Virginia Polytechnic Institute and State University, USA to make a keynote speech in ICBTA2019. (Read More)


*July. 16, 2019. Good News! Due to popular requests, early bird registration deadline is extended to September 20, 2019!


*May. 8, 2019. Good News! Articles in ICBTA2018 proceedings were indexed by EI Compendex and Scopus.


*Feb. 12, 2019. Good News! ICBTA2018 proceedings has been available at ACM digital library!
Call for Participation
听众在线报名
The ICBTA2019 Organizing Committee invites you to attend the 2nd Conference and experience presentations by leading minds in the field. Abstracts submission is also welcome for oral presentation only (no publication). If publication is required, please submit the full paper. If you are interested in participating in the audience (not as a speaker), please send an application with your information to icbta@iact.net.
ICBTA2019大会诚挚邀请您的莅临!如需口头陈述报告需要提交摘要投稿, 在收到摘要录用的状态通知后方可注册。(注意: 仅提交摘要投稿无法出版文章; 如需要出版文章,则需要在规定时间提交全文) 听众可直接注册, 点击下方听众注册表填好资料并付款后发送到大会邮箱。任何问题, 请邮件联系会议秘书 (icbta@iact.net)。
registration GUIDELINE | 注册指引
Listener registration form | 听众注册表
| | | | | |
| --- | --- | --- | --- | --- |
| SPONSORED BY | SUPPORTED BY | | | |
| | | | | |